Products
Download our 2022 Lafert NA Catalogue & Price List
View our products and get additional information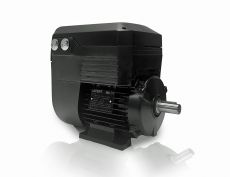 HP Integrated Motor & Drive
The HPI Series combines high performance HPS Series permanent magnet motors with variable frequency drives (VFD) optimized to produce a seamlessly integrated motor and drive solution. The on-board Lafert drive technology and control interface deliver optimized system performance and energy efficiency, without costly and time-consuming integration of discrete motors and drives.
• Size & weight savings up to 50% compared to equivalent EISA Premium Efficient Motors
• Includes HP Series motor achieving up to IE5 Ultra-Premium Efficiency
• Design eliminates enclosure requirement or frequency drive
• High performance sensor less AC vector control
• On-board digital analog I/O & communications (Modbus RTU, RS 232, CANopen)
• Optimized for HVACR applications
The HPI Series is available to equipment manufacturers for high volume applications (>1,000 units/year). Lafert offers HPI Series products with the option and capability to customize the control, electrical and mechanical design to customer specification. Contact our Sales team for more information.
Contact us for details and pricing